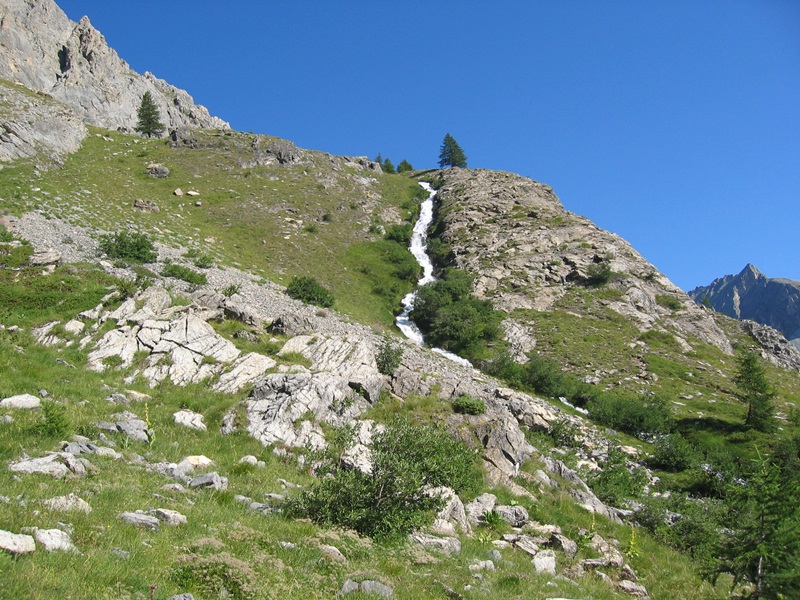 Loop route that passes through Rifugio di Stroppia, Bivacco Barenghi, Passo dell'Infernetto, Vallone dell'Infernetto, returning to the foot of Stroppia waterfalls.
A tour in which you will pass through always different landscapes, between the wonders of the Vallonasso di Stroppia and Infernetto valleys.
Splendid view of the Chambeyron group, whose "Brec" summit reaches 3,389 meters, the highest peak in the Maira Valley.

Once you have reached the Chiappera hamlet, continue to the crossroads;
From here follows the detour on the left that, with a dirt road, reaches the parking lot of the Stroppia plain at 1686 meters of altitude, where the Maira crosses the water of the waterfall.
After leaving the car, the path immediately rises in altitude, meandering.
Pass a first rocky jump to emerge in the grassy depression of the LAC ARS (2,050 m), that are not lakes but excellent springs and extraordinary panoramic viewpoints on the Castello-Provenzale group.
From here reach another rapid climb reaching a rocky wall with quite exposed sections, made accessible thanks to points dug by hand by the Alpine troops in the 1940s.
After about 1 hour and 45 minutes from the departure, catch your breath with a short flat section and the must-see Rifugio di Stroppia (2,260 meters), a panoramic point of the waterfall and the upper valley.
The route continues crossing the leap of the waterfall on stones;
In late spring the crossing is a unique experience, considering the outstanding flow rate of water.
Proceed touching Passo dell'Asino (2,309m) to reach the Vallonasso di Stroppia plateau, surrounded by the wonders of the high "dolomitic" peaks and, on the right, by Lago Niera, a basin of waterfalls, not always rich of water.
Keeping the main path, you will slowly regain altitude reaching Lago di Vallonasso di Stroppia, dominated by the Bivacco Barenghi (2,815 m -2 hours from the Stroppia refuge).
Last sprint to Colle Gippiera, where you will be rewarded by a breathtaking view of the high peaks among which the Brec de Chambeyron and the underlying Lago dei nove colori undoubtedly stand out.
After a well-deserved contemplative break, the ring route continues towards Finestra di Stroppia (Finestra = window – name deriving from the visible hole in the rock), and the homonymous Lago della Finestra (Lake of the Window – 2,794 m).
Cross Colle dell'Infernetto (2,783 m -1 hour from Bivacco Barenghi) to continue the descent into the steep chute of soil and debris. Here you need to pay attention: the ground might be unstable and you might find snow even in late summer.
The scenery changes again as you reach the pastures of Vallone del Maurin.
To conclude the ring, take the military dirt road, turning right towards the hydrographic right of the stream down to the parking lot.