There is something for everyone.
In summer & winter there are many sporting options one can try in Valle Maira.

MTB, montain skiing, trekking, etc.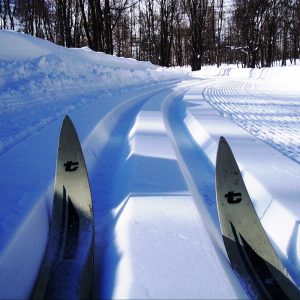 The Cross Country ski runs are in the hamlet of Chiappera (Acceglio) and develop into many tracks passing through the inhabited centre where one can see the typical local architecture. Then follow on to the foot of the Rocca Croce Provincale ending at the Stroppa waterfall. We will be able to practice both the classical technique (with rails) and the free technique (no rails). The tracks vary with both snowfall and the decisions of the track manager; therefore, it is appropriate to ask for updated information on the tracks and their connections (refer to Campo Base -Chiappera).
For hotel customers we have equipment available for rent: € 9 per person for skis, shoes, & ski poles.
After a good skiing session, you can enjoy a well deserved rest with a sandwich and a beer!
Or maybe you would prefer a hot chocolate or a piece of cake?
Besides us, the fireplace will warm you.
MOUNTAIN SKIING, 'VIA FERRATAS', AND ROCK CLIMBING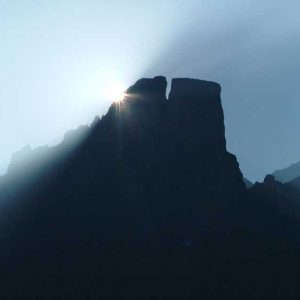 "Castello and Provencal Group" (the hamlet of Chiappera -Acceglio)
Here you can find all types of climbing, from crevices and athletic edges to overhangs with small nails.
The classic routes are completely nailed but for almost all of them you can replace the nails with nuts.
"Rocca La Meja" (Canosio) offers itineraries of different difficulties with places to attach a spit.
"Perun D'Perin" (Acceglio) the "Rock of Perino", a gym equipped with nails; grade of difficulty 4 to 7.
The Grand Torrione of Ciastlas (Roccabruna) the challenging passage is protected from climbing pins, but along the way you can find nails or nuts to use.
Camoglieres gym (B.ta Camoglieres -Macra) (the hamlet of Camilogires -Macra) A small cliff with fifteen lines of various difficulties.
Highest height 15 m. Routes equipped with climbing pins and resin. On the way back some routes have difficulties between the 3rd to the 5th grade.
New Via Ferrata (the hamlet of Camilogires -Macra) suitable for people properly equipped and accompanied by Alpine guides, or experts.
The routes are equipped with cables, metal steps and a Tibetan bridge. Travel time is about 3 hours, elevation gain of 500 m.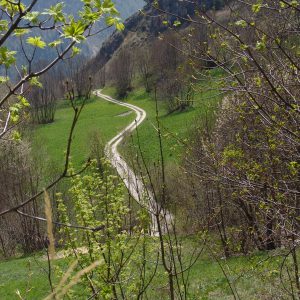 The many mule tracks and wagon paths which join the mountains and hamlets offer the possibility of hikes with walking sticks.
There are panoramic routes on the sweet slopes on which you can best use the technique of Nordic walking.
Recommended routes:
La scurcio (hamlet Frere)
Il sentiero dei cervi(deers' path) (hamlet Frere)
San Maurizio – Gias Cervet (hamletLausetto)
Colle Ciarbonet (hamlet Chialvetta)
Rifugio Carmagnola  (hamlet Colombata)
San Maurizio-Serri (hamlet Colombata)
See all the technical data sheets in the section dedicated to trekking; CLICK HERE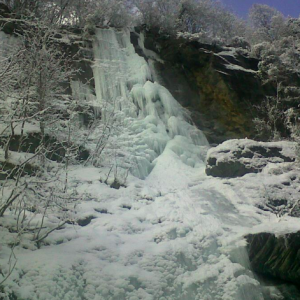 Maddalena (Prazzo), Acceglio and Stroppo are the three main places where you can practice this sport.
For those who want to experience or, why not, for those who simply want to give a look, we recommend:
Salto della Gola di Bassura (Stroppo)
Salto del Nano Gigante (Stroppo)
Cascata di S. Stefano (Stroppo)
Cascata di Canosio (Canosio)
Cascata del Cinghiale (Prazzo)
Cascata di Maddalena (Prazzo)
Goulotte di Maddalena (Prazzo)
Cascata di Chialvetta (vallone di Unerzio-Acceglio)
Rocca Bianca 3021 m – Parete Est- Nord-Est – Couloir Fantasie di Stroppia (Chiappera- Acceglio)
Monte Cerello 2808 m – Versante Est – Couloir Cerello (Chiappera- Comune di Acceglio)