Monte Ruissas (punta meridionale) MS – E1 -1.3
Spring has finally arrived. Here you have the transformed snow.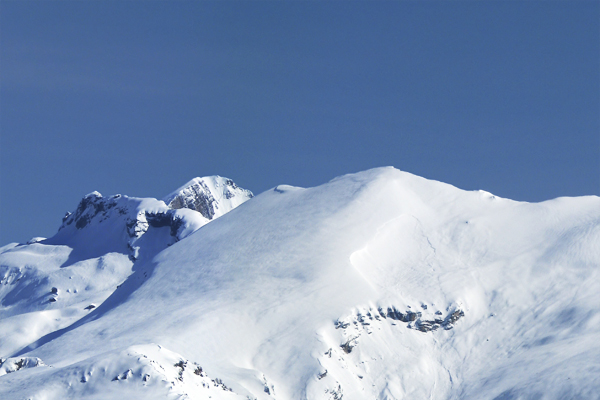 •Departure: the hamlet of Lausetto (Acceglio)
•Highest altitude: 2736 mt
•Ascent duration: 3 hours
•Elevation gain: 1226 m
•Exposure: South-west
•Period: December-April
•Difficulty: average skiers, 1.3 Volo scale
•Exposure to danger: E1

Slope turned to the south-west.

Constant declivity, wide and sunny areas.

An ideal trip at the beginning of April, with the transformed snow.

From the hamlet of Lausetto proceed towards the hamlet of Colombata, then proceed and cross the Rio Mollasco, passing on the iron bridge.
Keep on the steep slope, passing through Grange Durazza sottano and then through Grange Durazza soprano, that you can see over the fields.
Walk along an unusual isolated grove on the right and go up the entire slope aiming for the depression to the right of the highest point of the ridge, Mount Cappel.
Changing direction and heading north-east, continue towards the destination losing a slight difference in altitude and then go up steeply.
Choose whether to reach the southern peak of Mount Ruissas on the right or the northern peak on the left.
Descent: follow the ascent itinerary.