Monte Oronaye Canale SUD SCI RIP – E1 -4.1
I can see everything from here!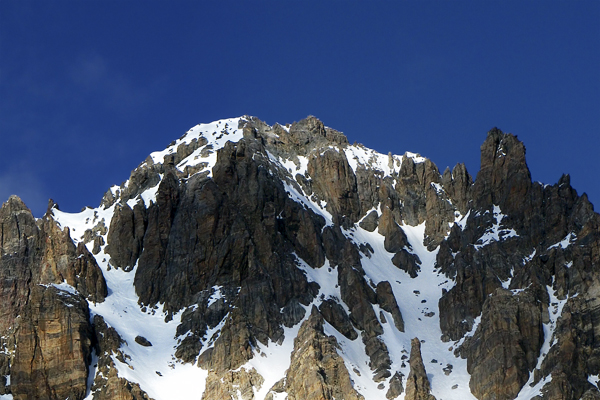 •Departure: Chialvetta parking lot (The hamlet of Chialvetta, Acceglio
•Highest altitude: 3100 m
•Ascent duration: 5 hours
•Elevation gain: 1700 m
•Exposure: South and East
•Period: February-April
•Difficulty: steep skiing, 4.1 Volo scale
•Exposure to danger: E1

A quite difficult and challenging itinerary, from a physical and technical perspective, during the descent too.

To reach the tip, you must be an excellent mountaineer.

From the Chiavetta parking lot, take the bridge and follow the little central path that brings you to the church.
Follow the track on the left, pass along the left of the stream Unerzio and go uphill through the fields towards Prato Rotondo.
Reach the hamlet of Viviere and follow the paved street.
At the crossroads for Monte Ciarbonet, keep to the right and reach the plateau of Prato Cioliero. At an altitude of 1840 meters, leave the main street and turn right when you run into a headstone, heading for Valle d'Enchiausa.
Cross the plateau and go up on the Vallone until a crossroads. Take the left, passing a hollow. Proceed laogn this valley until 2250 meters of altitude. Then Turn left, reaching Colle Feuillas.
Without losing altitude, aim for the second channel (the one leftmost one on the south-western side of the Oronaye); go up the channel until the hill at 3.050 meters of altitude.
To reach the peak, take off the skis a few meters before the pass and proceed along the right side with delicate climbing passages.
For the descent, repeat the ascent path. In case of little snowfall, when you reach the bottom of Colle Feuillas, we recommend you to keep to the right, passing at the bottom of Bric Content and reaching the ascent path near to Grange Gorra.