Monte Estelletta – Midia MS – E1
A great excursion after a generous snowfall too!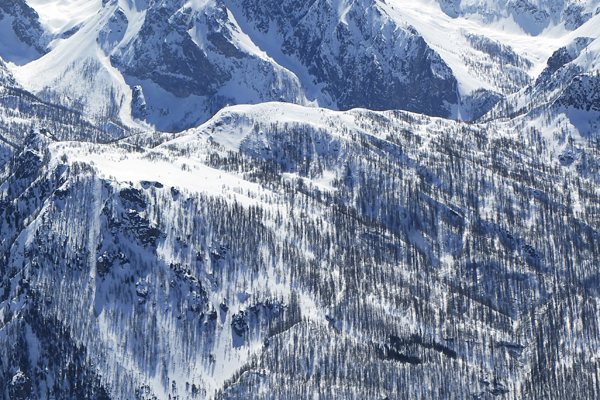 •Departure: Parking lot right after the hamlet of Ponte Maira (Ponte Maira – Acceglio)
•Highest altitude: 2318 meters: Monte Estelletta, 2310 meters: Monte Midia

•Ascent duration: 2,30 hours
•Elevation gain: 917 meters – Monte estelletta 909 meters -Monte Midia
•Exposure: North – North-west (Midia peak)
•Period: December-March
•Difficulty: Good climbers, 2.3 Volo scale
•Exposure to danger: E1

An itinerary quite secure even after an abundant snowfall, thanks to the little declivity and to its development along the trees. Panoramic view on High Maira Valley.
Pass the fields that you will find right in front of the parking lot. Reach Grange Rossetto (1534 m) and, after them, you will see a renovated lodge.
Enter the woods and keep going towards the south, maintaining a central position between Rio Ciarbonet and Rio Selletta.
After reaching the plateau at 2000 meters of altitude, turn towards the south-east until Monte Estelletta (2318 m). Proceeding along the north-eastern side, losing a little of altitude, you will reach the base of Monte Midia (peak: 2318 m). You can reach the peak through a brief and steep ridge segment.
Variant: From the plateau at 2000 meters of altitude, turn to the east and proceed towards Monte Midia (E2).
Descent: go downhill among western fields until the plateau at 2000 meters. From here we recommend to follow the ascent path in reverse.
Crossing: in case of transformed snow, it's possible to make a crossing from Monte Estelletta to Chialvetta, along the southern side.