Monte Cobre SCI RIP – E1 -4.1
Approaching the steep skiing.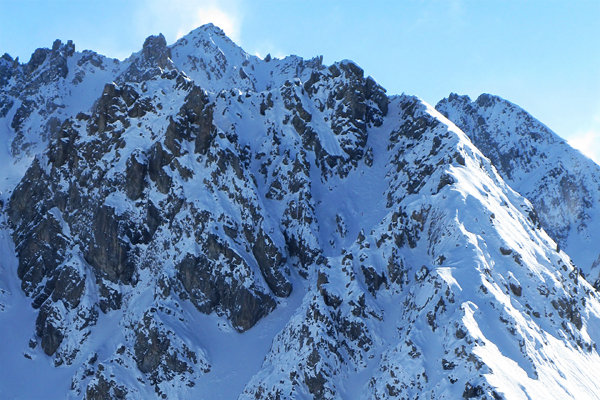 •Departure: Chialvetta parking lot (the hamlet of Chialvetta, Acceglio)
•Highest altitude: 2650 m
•Ascent duration: 3 hours
•Elevation gain: 1179 mt
•Exposure: North-east (approach) – North-west
•Period: December-April
•Difficulty: good skiers, 4.1 Volo scale
•Exposure to danger: E1

Itinerary with little declivities and without rock jumps; ideal for whoever is approaching steep skiing.
From the Chiavetta parking lot, take the bridge and follow the little central path that brings you to the church.
Follow the track on the left, pass along the left of the stream Unerzio and go uphill through the fields towards Prato rotondo.
Reach the hamlet of Viviere and follow the paved street. At the crossroads for Monte Ciarbonet, keep to the right and reach the plateau of Prato Cioliero.
Pass the old barracks and go on the right towards the Barrack of Escalon.
At an altitude of 2150 meters, turn left and go up the conoid (30 °) and then the channel (max 40 °) that leads to the summit.
Descent:: follow the ascent itinerary.
Variant: Depending on the type of snow, with the same declivities and difficulties of the Northern channel, descend from the South-eastern channel on Comba Emanuel, reaching Prato Ciarliero with the ascent itinerary.
The same variant can be followed during the ascent.