Bric Boscasso (Northern side) BS – E2 – 2.3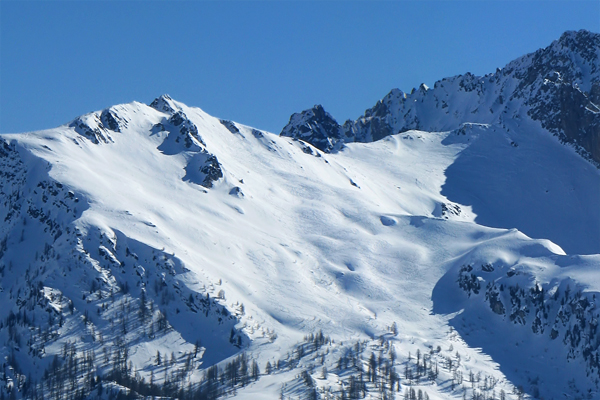 •Departure: parcheggio di Chialvetta (B.ta Chialvetta, Acceglio)
•Highest altitude: 2589 m
•Ascent duration: 3 hours
•Elevation gain: 1114 m
•Exposure: North-east (approach) – North (arrival)
•Period: Dicember-april
•Difficulty: Good climbers, 2.3 Volo scale
•Esposizione al pericolo: E2

This itinerary is very common, because the exposure often guarantees powder snow.

Wide slopes on the top, larches in the middle part.
Many ways to descend, some less popular than others.
From the Chiavetta parking lot, take the bridge and follow the little central path that brings you to the church.
Follow the track on the left, pass along the left of the stream and go uphill through the fields towards Prato rotondo.
Around 100 meters before the hamlet, cross the little bridge and proceed on the plateau until a conical rock. On its left, start to go uphill through the larch woods.
From the central position, start to move on the right, until you find an open slope. On its left you find Grangia Boscasso. Proceed going through it, going towards the south-east, leaving the woods.
Proceed going uphill, aiming for the right side of Brc Boscasso.
Approach to the tight final chute, reaching the pass. From here, follow the peak until Bric Boscasso.
The descent repeats the ascent but, in case of safe snow, you can also follow some variants.
• From the pass, keep to the left towards Cumbal Vallonetto. Follow this path until Combal Cassorso and from here reach prato Rotondo.
• From the pass, going down in the tight chute and the slope, keep to the right until you find another chute that brings you to Punta Cialancia Piana. From here, reach Chialvetta.